Serving For The Greater Good of an Industry
a special message from Brandon Sawalich, President/CEO, Starkey; HIA Outgoing Board Chair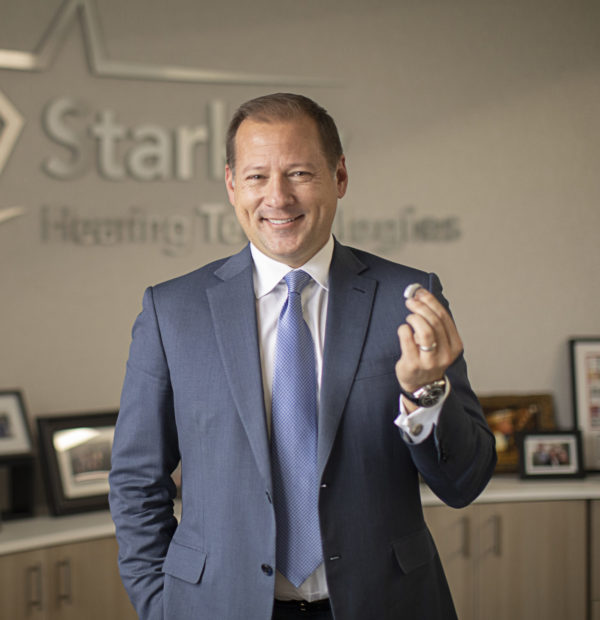 I have been around the hearing industry since I was seven years old. I remember traveling to service centers as a kid and talking to people in my parents' office, Professional Hearing Services, who were there to buy a hearing aid. As a child, I only understood it to be a device that helped people hear but I also noticed it made them smile more. Fast forward 38 years and I know now that it's so much more than that. It's not "just a hearing aid." It's a medical device regulated by the FDA that connects people back to their lives through innovative and sophisticated technology. Hearing aids should not be confused with consumer electronics that someone can buy online or off the shelf. Like a fingerprint, no ear or hearing is alike. So the road to better hearing will always be best traveled with a trained and licensed hearing care professional. It's important that the hearing industry continues to educate not only consumers, but lawmakers about the safest and best way to help people with their hearing.
In my current role as President and CEO at Starkey, I see the impact that modern hearing technology has on people and families every day. Since 2017, I've also had the honor of serving as Chairman of the Hearing Industries Association (HIA) here in the United States. HIA was founded in 1955, and today, its members are responsible for the majority of the more than 4 million hearing aids purchased annually by hearing healthcare professionals. HIA remains the only association in America dedicated to representing hearing aid technology and the manufacturing of these life-changing medical devices.
I was elected Chairman of the Hearing Industries Association in the spring of 2017, and along with other industry leaders, I knew HIA had to regroup and adapt to not just the present, but the decade ahead in hearing healthcare...
Read the full message here