Lending an Ear: The Benefits of Adopting a Hearing Assistance Dog
by Lindsay Robinson, HIA Program Coordinator
December 9, 2021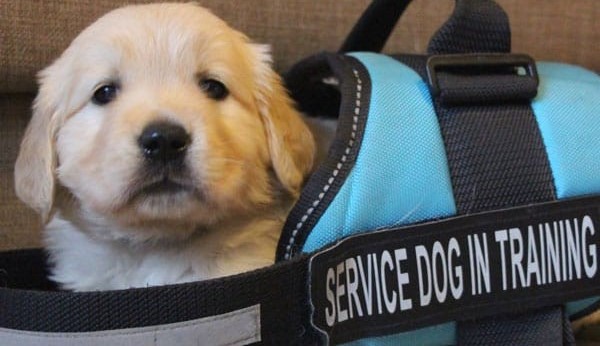 Even with the advancements of today's hearing technology, some individuals with more severe levels of hearing loss can have feelings of anxiety and social isolation as they fear missing out on important sounds during their daily routines. One resource that has been gaining popularity since the 1970's is the hearing assistance dog. These dogs are custom-trained to alert their deaf or hard of hearing handlers to important noises such as the doorbell or knock, alarm clock, a ringing phone, and smoke alarm. In a recent study from the UK, it was revealed that individuals with hearing assistance dogs had significantly reduced symptoms of anxiety and depression and were less dependent on others than people with hearing loss who were still waiting to receive an assistance dog. Professionally trained assistance dogs can not only bring a sense of security to their handler, but also act as a loyal companion when the world feels a bit too quiet.
Lise and Shine
I had the pleasure of speaking with Lise Hamlin, Director of Public Policy at the Hearing Loss Association of America (HLAA), about the recent addition to her family, Shine, a 2.5 year old black lab hearing assistance dog. Lise has had single-sided deafness in her left ear since early childhood and hearing loss in her right ear since adulthood. She wears a cochlear implant and a hearing aid that has assisted her ability to communicate, but Lise was in need of a reliable resource that she could trust to keep her safe when in busy environments or at night when she is not wearing her hearing technology.
After months in the application, interview, and selection process, Lise was accepted into the Canine Companions for Independence (CCI) hearing dog training program in Orlando, Florida. She told CCI about her lifestyle, specifying that she continues to work full-time and requires a dog that is comfortable in elevators, on escalators, and in a busy city surrounded by people in close proximity. Lise also needed a dog that did not bark during the workday and was ok living with a cat. Shine seemed to be the perfect match from the available litter, so Lise spent one week at CCI working with Shine and other participants to understand how to bond with the new dogs and how the dogs can be trained to alert to new sounds.* Instead of barking, Shine and other hearing dogs are taught to nudge their handlers with their noses or paws to alert them that there is something the handler should be aware of.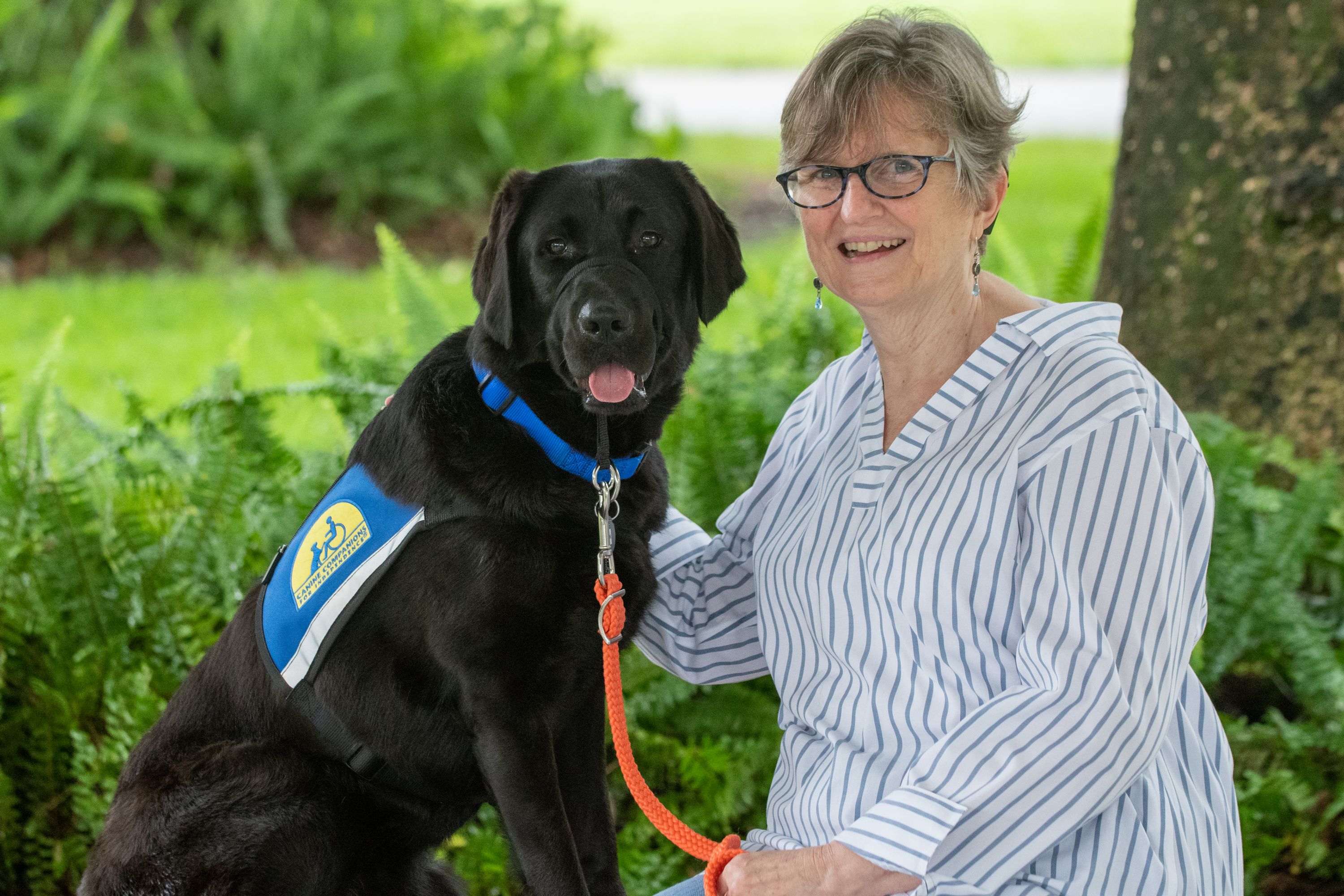 After flying home with Shine, it was time for everyone to acclimate to a new life. Shine exchanged her hearing dog siblings at CCI for a senior feline flat mate who was not interested in sharing space with a 55 lb. lab at first. Lise also had to begin a new routine of walking and exercising Shine in the early morning before her workday began. Dogs the size of Shine need an hour or more of exercise per day to stay healthy and happy.
After a couple months of learning how to read Shine and understand her needs – and a few vet trips for an ear infection later – it became a wonderful companionship. Lise has now learned from Shine's cues to look in certain directions for noises that may be important when out in public. At home, Shine has also learned to alert Lise when water is boiling in the tea kettle since kettles make high frequency noises that are difficult to hear for those with significant hearing loss. Aside from the added security that Shine brings, Lise has enjoyed the companionship her new assistance dog has provided, especially when working alone at home. Even the big sister cat has made room for Shine on the sofa after learning how well-behaved and helpful Shine is!
*As of the summer of 2021, CCI reduced their training from two weeks to one week and reduced the number of participants it accepts to ensure safety due to COVID.
Is a hearing assistance dog right for you?
Currently, there are around 5,000 people like Lise who benefit from a hearing assistance dog.1 However, it's important to understand the requirements of adding a dog to your home and daily routine. Although requirements vary by hearing dog company, you may be eligible for a dog if you:
Are over 18 years old.
Are deaf or hard of hearing (some require hearing loss at or greater than 65 dB).
Can adequately manage a dog's behavior by visual observation and appropriate commands.
Are able to attend the initial training classes and any required support programs that follow.
Have time and ample outdoor room to exercise the dog daily.
Are able to cover the training cost of the dog (some organizations donate dogs to those in need, others can cost up to $17,000)2 and long-term care such as vet visits and vaccinations, food, emergency medical bills, and comfort items like a bed and toys.
Have trustworthy friends or family who can take care of the dog if you are on a trip or have an emergency.
It's important to consider your current routine and hobbies. Do you work in a place where colleagues would be unfriendly to the dog or have health issues? Do you frequently attend events that would make a dog uncomfortable, such as firework shows or loud sporting events? Lise also noted that although Shine was well-behaved on the flight home, traveling can be hard on some dogs and she would not recommend a dog that is anxious on flights to someone who travels frequently, especially on trips overseas since assistance dog policies vary by country.
Different hearing dog organizations also have their own policies regarding the mobility of the handler. Organizations like CCI may train some dogs to accommodate certain mobility issues, but it's always important to call a representative at the organization to ensure a hearing assistance dog is the right option for your long-term needs.
Consider helping future hear-os
Organizations like CCI and other non-profits that train hearing assistance dogs rely on donations to continue their important work. Even if you don't need a hearing dog or do not fit the requirements to adopt at this time, consider making a donation to ensure those with hearing loss have a chance to find their new best friend and remain happy, safe, and independent. Reach out to a local or national hearing dog program today: https://assistancedogsinternational.org/resources/member-search/
---
1 Traynor, R. (2012, September 8). Hearing Dogs Move Worldwide: Robert Traynor: Hearinghealthmatters.org/hearinginternational. Hearing International. Retrieved December 7, 2021, from https://hearinghealthmatters.org/hearinginternational/2012/hearing-dogs-in-china/
2 Service dog for the deaf: How they help & how to qualify. US Service Animals Blog. (2019, November 8). Retrieved December 7, 2021, from https://usserviceanimals.org/blog/service-dog-for-the-deaf/