Introducing an exciting new design, custom made for you by ReSound for mild to severe hearing loss.
Think of everything you want in a hearing aid combined with all you love about earbuds. It's here.
ReSound brings advanced hearing technology carefully crafted in a rechargeable earbud design, custom made for you. Enjoy the best of both worlds.

Custom made for you with artistry and attention to detail to fit your unique ear and then perfectly adjusted to your hearing needs by your hearing care professional.
Weatherproof and sweatproof
Made for active lifestyles, continuous wear, and easy cleaning, with nano coating inside and out. So, whatever life throws at you, don't worry. It's no sweat for these custom hearing aids.
The custom hearing aids look good and feel great. With an expert fit and superb sound tuned to your needs, you won't want to take them off. Also, they won't interfere with glasses or face masks.
Modern style that suits you
Choose In-style™ or Blend-in™ colors

Your customized charger
The specially created inserts inside the charger match your custom-made hearing aids for a seamless recharge. One charge for up to 24 hours of power.
Hands-free calls for iPhone and iPad*
Hear music and take calls. Stream it without fuss from iPhone and iPad or Android™ smartphones directly to your ears.
*Customs by ReSound hands-free calls are compatible with iPhone 11 or later, iPad Pro 12.9-inch (5th generation), iPad Pro 11-inch (3rd generation), iPad Air (4th generation), and iPad mini (6th generation), with software updates iOS 15.3 and iPadOS 15.3 or later.
Check device compatibility here
Think you can't get a natural sound experience? Think again.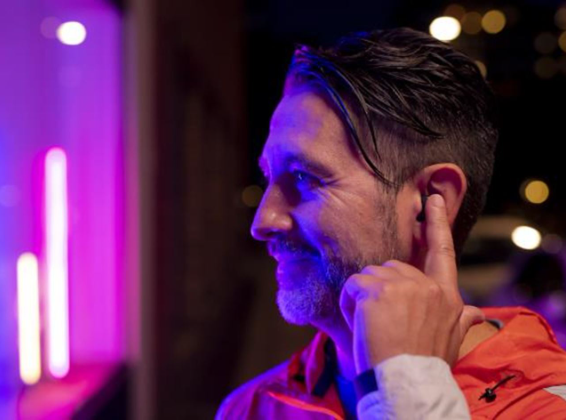 With custom-made hearing aids, you get a natural sound experience fitted to your individual needs by your hearing care professional, based on your unique hearing profile. Hear your best in all situations:
In busy places with lots of noise
Join in conversations and get all the details
Know where sounds are coming from
Even outdoors, no matter the weather
Ready to move forward?