GN Hearing, the global leader in hearing aid innovation, announced the expansion of the popular ReSound OMNIA family, providing more options to address the biggest unmet need for people with hearing loss: hearing speech in noisy environments.
Despite hearing in noise being the main reason why people get hearing aids, 86% of people who wear them still struggle with speech understanding in noise.1 The launch will see GN Hearing expand the premium natural sound offering of ReSound OMNIA into more devices to match the needs and wants of a larger group of people. ReSound OMNIA provides an exceptional 150% improvement in speech understanding in noise2 and is the only hearing solution to simultaneously combine two benefits – narrow beamforming directionality for hearing in noise and omnidirectional listening for a natural listening experience without feeling cut off.2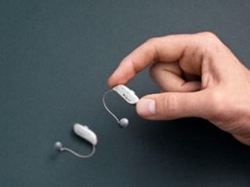 The ReSound OMNIA technology is available in a full line-up of popular styles to cater to all hearing needs and preferences. In addition to the Receiver-in-Ear hardware launched in August 2022, the family now includes Mini RIE, Behind-the-Ear (BTE) and custom-made styles to ensure even more people living with hearing loss will be able to access GN's most advanced technology, and with greater listening comfort.
As part of the expansion, GN is launching their smallest rechargeable RIE yet, the Mini RIE, for a stylish and cosmetic fit without compromising on sound quality. The Mini RIE is designed for best wearing comfort, thanks to its size, shape and the soft curves. The device offers all day battery life for worry-free use throughout the day and without the hassle of exchanging fiddly batteries on the go.
GN Hearing CEO and President, Gitte Aabo explains, "Nobody should feel limited by noisy environments. I'm delighted that more people can now benefit from these new best-in-class hearing aids which will help improve hearing in noise without leaving anyone feeling cut off. People with hearing challenges can now strengthen their connections to people and the world around them and hear the sounds that matter."
All solutions under the ReSound OMNIA family will provide enhanced connectivity, whether users are streaming phone calls or music to their ears. Users can answer calls with just a tap on their hearing aid and enjoy crystal-clear conversations with outstanding sound quality – all without having to take their smart phone out of their pocket.*
The extended ReSound OMNIA portfolio is planned for Regulatory clearance and will be available globally starting with the US and Canada on February 23, 2023, along with the equivalent Beltone Achieve line-up.

For more information, visit the ReSound website.
1 MarkeTrak 22, 2022
2 Jespersen et al (2022)
* ReSound OMNIA hands-free calls are compatible with iPhone 11 or later, iPad Pro 12.9-inch (5th generation), iPad Pro 11-inch (3rd generation), iPad Air (4th generation), and iPad mini (6th generation) or later, with software updates iOS 15.3 and iPadOS 15.3 or later.