Eric Timm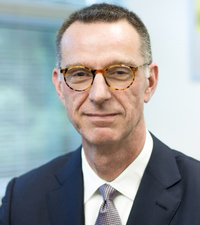 As chief executive officer for Sivantos, Inc. in the USA, Eric provides leadership to the company's operations serving hearing health professionals and their patients.
Before joining Sivantos, Timm held general management, sales, marketing and corporate strategy leadership positions at Phonak, Cardinal Health, Bristol-Myers Squibb and 3M. Regardless of assignment, his professional interest is in the development and successful implementation of strategic, operational and tactical plans, in the context of an accurate and dynamic environmental understanding.
Timm holds an MBA from the University of Wisconsin-Madison and a BA from Gustavus Adolphus College. He has also participated in post-graduate development studies in marketing with the faculty of INSEAD, the Kellogg Graduate School of Management at Northwestern University as well as civilian training in warnings intelligence and countermeasures planning from the United States Defense Intelligence College.